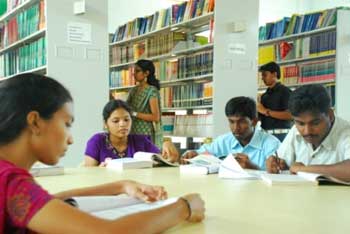 The two-floor structure with an area of about 3,200 square metres has been built at a cost of Rs. 4.30 crore with separate section for reference, record rooms, magazines, dailies, periodicals, children's section, lending, internet browsing facility, and IAS Study Centre.
                     Currently, the lending and periodicals sections are open for public use and the other sections are expected to begin functioning shortly. There are 1.5 lakh titles in English and Tamil languages at the library that functions from 8 a.m. to 6 p.m.
                    The residents of the city welcomed the restoration of the library to its original premises and were seen busy making use of the facility even on day one.
Contact Details :
125 A, Old Bye Pass Road, Karur Main Road, Trichy, Tamil Nadu – 639001
0431 – 248500